---
Premium Notice

: Watch this Season's "

LIVE

" UEFA CHAMPIONS LEAGUE MATCHES "ALL FOR FREE" on your Mobile Phone.
Barcelona and Uruguayan striker Luis Suarez has pointed out his disappointments as he strives to be a top dog in the Barcelona squad.
Emotionally, Luis Suarez has revealed his unsatisfaction towards helping his teams mates as he would have wished.
Via Suarez social handle, he thanked his team mates and supporters, and swear to remain "professional" after disclosing his injury updates.
He is hugely supported by his fans as some blamed his coach for not understanding him and want Valverde to be sacked.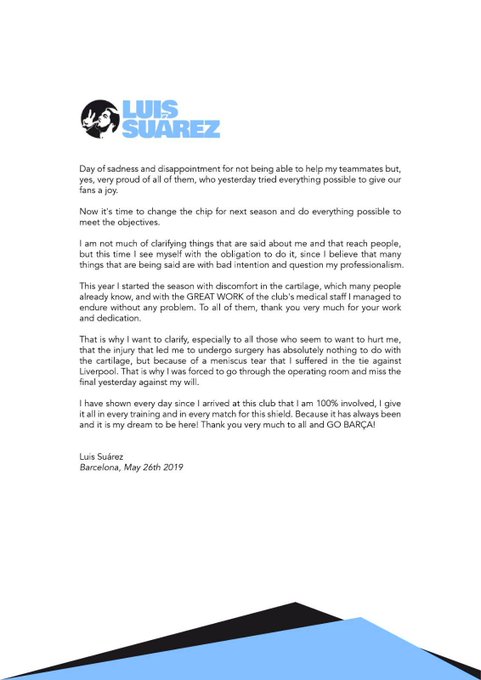 Thanks everyone!!!#AlwaysProfessional pic.twitter.com/vtwqeUc0HG

— Luis Suarez (@LuisSuarez9) May 26, 2019
Explore Latest Soccer News, Watch Exclusive SOCCER IMAGES On Our Facebook Page. Follow Us On Twitter, Telegram & YouTube Channel.